Ottenwalter Show Pigs
Calusa, CA
Ottenwalter Show Pigs is a show pig operation in Colusa, California. 2020 marks my 12th year managing the herd, and what a ride it has been! When I started at Ottenwalter Show Pigs in January 2009 we ran about 60 sows, had one annual show pig sale that catered mainly to our local customers, I was the only full time employee, and we had some big ambitions. Eleven years later, as I write this, we are one of the largest suppliers of show pigs to the youth in this country. We have over 300 sows, we host a sale every month of the year, our staff has grown considerably, and it includes some of the brightest young minds in the industry.
While we still have those big ambitions, the size and scope of our operation has changed immensely. We've climbed some mountains and we still have a lot more to climb. Our enthusiasm and love for what we do has never been greater! Our operation has always been unique in the fact that we've been fortunate enough to have both Mark's desire and commitment to buying the most elite females that we come across and my passion for building from within — identifying those most superior females and basing our herd around the genetic progress made from them. Over the years, we have encountered lots of different bloodlines and through the process of constantly sifting through the best of the best with relentless determination and ridiculously high standards, we've created our own program that we're very proud of. We've made a great team, and as the hogs continue to get better, the support from our friends and #teamottenwalter customers only grows.
Along our incredible journey, we've encountered some outstanding individuals that have become part of our program — we are extremely excited to announce that Noa Taipin has joined us full time as a sales and show pig specialist. We would also like to thank Cody and Becca Meek for their years of hard work and dedication to our program. They've made us better and helped make a lot of awesome things possible. We wish them the best of luck with their new life in Oklahoma.
No matter what your objectives are in the show pig industry, we are confident we can contribute to your success. Please let us know how we can work together towards a common goal!
–Russell Pedrett, Farm Manager
Breeding showpigs for success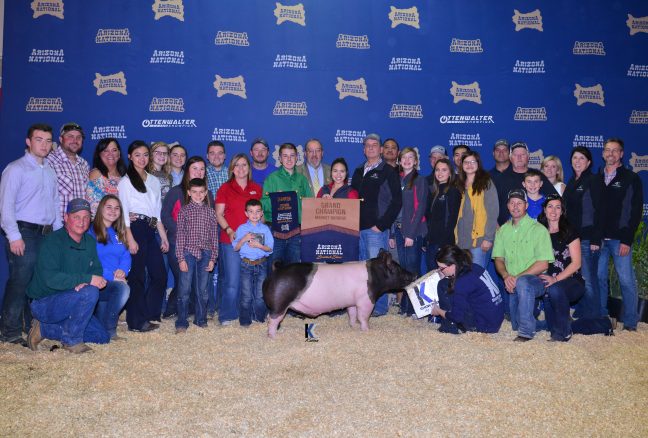 Mark and Sandy
Ottenwalter
Owners
Mark and Sandy started Ottenwalter Showpigs with their kids in 1998. They had 60 sows they would feed, breed, farrow and take care of all while raising their family and staying active in school sports and other events in the community. The program is still family-based, as their granddaughters have been showing pigs and winning shows at every level. They are proud of their grand daughter, Lexi Hernandez, who is a graduating senior this year and will be attending Oklahoma State University. Lexi has enjoyed a tremendously successful show career highlighted by showing two Grand Champion Barrows at the Arizona National, the Grand Champion Market Hog at the California State Fair, and Reserve Grand Champion Market Hog at the California State Fair amongst many other big wins with her family and support team by her side.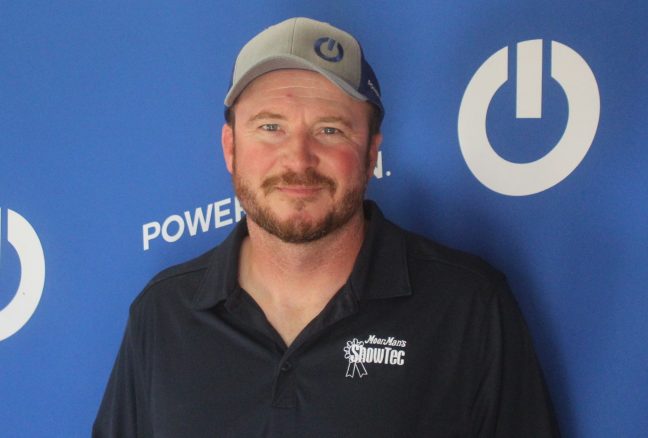 Russell
Pedrett
Farm Manager
Russell began his career at Ottenwalter Showpigs as the farm manager in January 2009. He oversees all daily operations and makes decisions on breeding plans, sale pigs, keeper gilts, show barrows and show pig diets all while also being the main contact for customer service and sales. Russell has helped this program grow to be the household name it is today. He grew up raising show pigs and purebred Yorkshires in Minden, Nevada where he had 40 sows by the time he graduated high school. After high school, Russell majored in Animal Science while attending Modesto Junior College, and during his tenure in Modesto he had the opportunity to manage the MJC Swine Unit. After Modesto, he transferred to the University of Nebraska-Lincoln where he competed on the livestock judging team and worked full-time at RW Genetics while attending school. Russell currently lives in Colusa with his wife Amanda and daughter Sadie and enjoys fishing in his spare time.
Favorite Farm Activity: Sorting pigs and breeding sows
Contact: (530) 681-9811, russellpedrett@gmail.com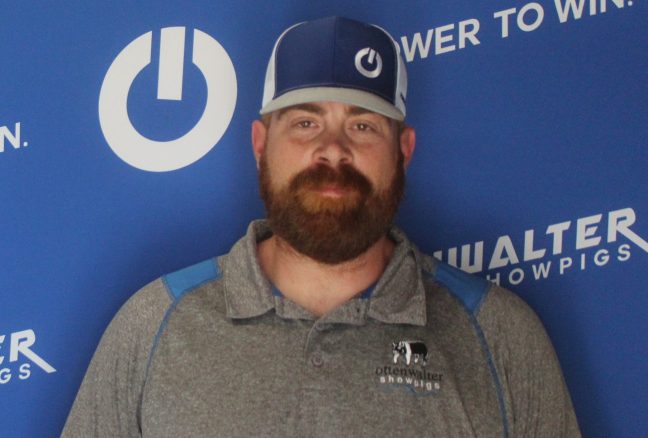 Gary
Reid
Maintenance Worker
Gary is a proud Army veteran and the head of maintenance for Ottenwalter Showpigs. He started at the farm in 2016, and his duties include power washing, feeding sows and maintaining the facilities and equipment, along with whatever else is required during a day's work. Gary lives in Gridley with his wife Katie and is an amateur wildlife photographer.
Favorite Farm Activity: Helping Russell ear notch pigs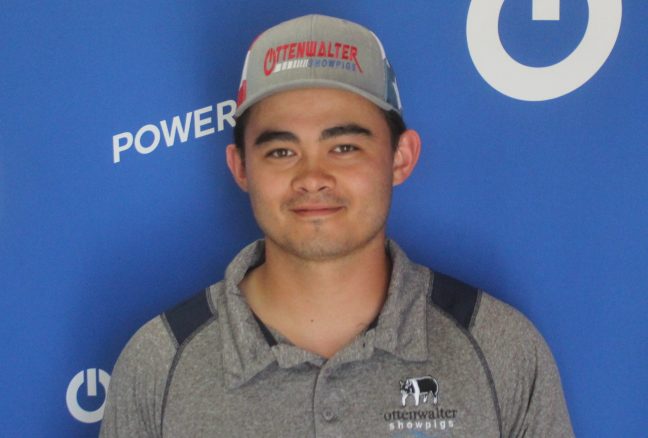 Noa
Taipin
Sales
Noa grew up showing Ottenwalter pigs with his family in Klamath Falls, OR. Between Noa and his two siblings, Kai and Kekoa, the Taipin family has brought home a large percentage of the banners at most Oregon shows the past several years, and they've become a widely known and admired family in the pacific northwest. Noa is in the process of completing his education at Chico State and plans to stay and work full-time upon graduation. Noa's focuses are managing the show pigs and boars on feed, sales and selection, customer service and semen collection.
Favorite Farm Activity: Collecting boars and processing semen
Contact: (541)281-8080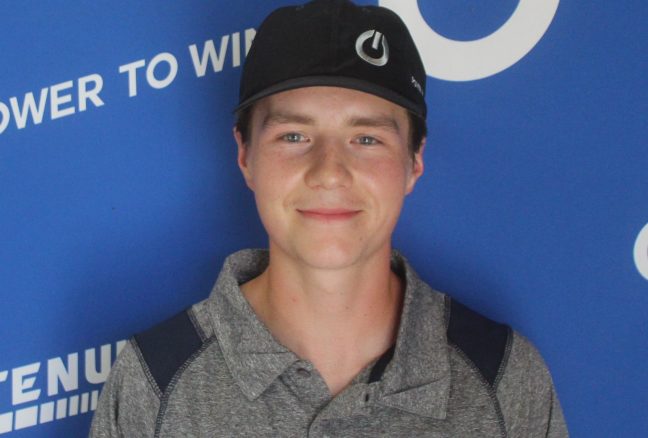 Max
Valle
Farrowing House Manager
Max attends Butte College where he studies Business. He grew up in Grants Pass, OR where he spent lots of time outdoors hunting and fishing with his brothers. Like Noa, Max grew up showing pigs and is a past #teamottenwalter customer. Max is our current farrowing house manager and is capable of completing every task on the farm.
Favorite Farm Activity: Helping with sale days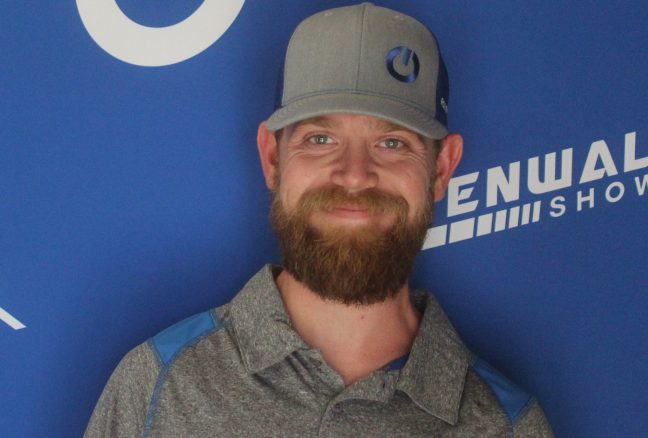 Montana
Beck
Farm Hand
Montana grew up in Reno, Nevada and graduated from Chico State where he competed on the livestock judging team. Montana is a well-rounded stockman, and he brings a wide variety of livestock experience to the table. Montana's duties involve everything from chores, feeding, cleaning pens and breeding, to helping with the show pigs and being part of the sales team. Montana also judges many market lamb and goat shows yearly throughout the western United States.
Favorite Farm Activity: Feeding sows and show pigs