Sales & Events
Ottenwalter Show Pigs would like to thank our incredible customer base for making 2022 our BEST YEAR TO DATE for show pig sales! While success in the show pig business requires countless hours of hard work and dedication, it is our loyal customer base that keeps this place running! THANK YOU for your continued faith in our program!
We are currently farrowing our winter litters and there are LOTS OF BIG THINGS TO COME IN 2023! Please see our Sales Schedule below and please don't hesitate to reach out to Russell (530) 681-9811 or Dustin (208) 969-0193 with any questions you may have!
Tuesday, May 23
Ladies of Our Legacy Bred Female Sale
Offering approximately 40 females bred for June, July, and August litters and some select open females ready to breed
Thursday, May 25
Online Sale
Selling early March pigs perfect for October, November, and December shows
Thursday, August 3
California's Exclusive Show Pig Sale
Offering our most elite May farrowed prospects geared towards the winter show season!
California Youth Age Expo in Tulare, CA.
Saturday, August 19
THE INVASION #1
Location: Stephenville, TX
Saturday, September 16
THE INVASION #2
Location: Stephenville, TX
Saturday, October 14
THE INVASION #3
Location: Stephenville, TX
We will post photos and videos of each lot about a week prior to our sales. Nationwide delivery is always available following our sales and delivery options will be posted to each sale page. Not sure what you need or unable to make one of our live auctions? We are happy to provide a selection service for our customers and can arrange delivery to most places! Please contact Russell for more details. We are also able to handle group orders for 4-H and FFA members. Please contact Russell at (530) 681-9811.
CUSTOMER CARE
In addition to assisting with selection, we are also able to provide customized feeding plans to our customers through videos and sometimes in-person visits during the entire feeding period. We attend every fair and major show on the west coast that we possibly can to help ensure the success of our customers. Please reach out to Russell or Dustin for more details on how we can help you attain your show ring goals!
Need show pig supplements and supplies? We highly recommend the RP Winning Technologies line of products. They have everything you need from daily supplements to whips, oil, skin care products, and show day electrolytes. Click here to visit the RP Winning Technologies store.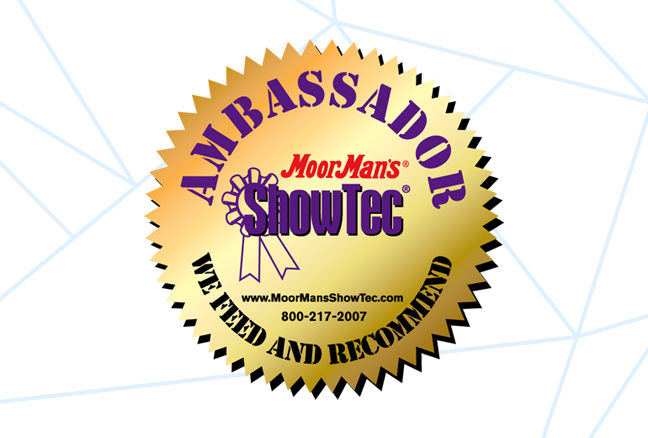 Seal of Approval
We are proud to use and recommend Moormans Showtec Feed and Supplements.