Sales & Events
The spring 2022 Sales Season was one for the books and we would like to extend a big THANK YOU to all of our customers and friends who made it such a great success! Please don't hesitate to reach out to Russell (530) 681-9811 or Dustin (208) 969-0193 with any feeding or management related questions you may have about your projects. We want to see you succeed and are happy to help in any way possible!
We are currently farrowing our summer litters and the excitement level is as high as it's ever been in Colusa! We will offer our May and early June pigs online 8/18, and we are in the process of planning two LIVE AUCTIONS in Stephenville, TX to market our late June through early August pigs. Please reach out to Russell or Dustin with any questions you may have!
NEW THIS YEAR: CCI LIVE will be at all of our farm sales to broadcast the auction and offer an online bidding service. CLICK HERE TO REGISTER TO BID
Monday, October 3
Online Sale LADIES FIRST #2
Wednesday, November 30
Ottenwalter Show Pigs LADIES OF OUR LEGACY WINTER EDITION Bred Female Sale
We will post photos and videos of each lot about a week prior to our sales. Nationwide delivery is always available following our sales and delivery options will be posted to each sale page. Not sure what you need or unable to make one of our live auctions? We are happy to provide a selection service for our customers and can arrange delivery to most places! Please contact Russell for more details. We are also able to handle group orders for 4-H and FFA members. Please contact Russell at (530) 681-9811.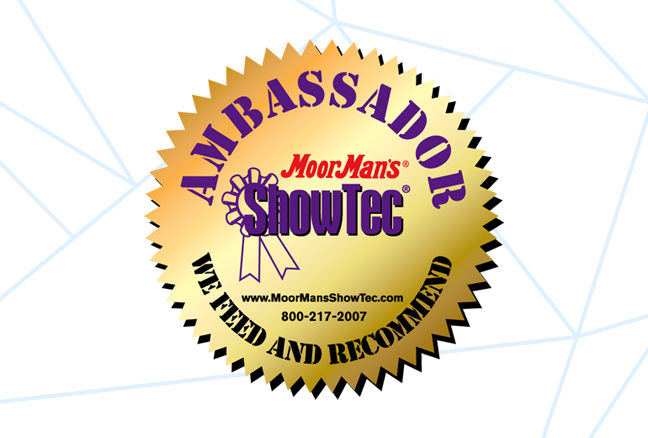 Seal of Approval
We are proud to use and recommend Moormans Showtec Feed and Supplements.
Ottenwalter Showpigs
Rewards Program
National Shows & Majors
Overall grand champions
$2,500
Overall reserve grand champions
$1,500
Breed champions
$500
Reserve breed champions
$250
County, Regional & Smaller State Fairs
Overall grand champions
$250
Overall reserve grand champions
$100
Major State Fairs
Overall Grand Champion
$1000
Overall Reserve Grand Champion
$500
Breed Champion
$100
Reserve breed Champion
$50
Terms & Conditions
All awards are to be used for buying credit only, through either our farm sales or online auctions. Buying credit may not be used for private treaty purchases.
Winning animal must have been purchased from Ottenwalter Show Pigs.
A color photo from the show, preferably in front of the backdrop is required. Please email all photos to russellpedrett@gmail.com.
Pig identification (ear notch) of winner must match the identification of said pig when purchased.
Eligibility is based on livestock project being associated with a youth or junior show
Jackpot and prospect shows do not qualify.
Rewards are limited to one reward per winning show pig; a winning show pig will not be eligible for more than one reward
Breeding shows at the county fair level do not qualify.
National Shows and Majors include the following: Fort Worth, San Antonio, Houston, Rodeo Austin, Texas State Fair, Tulsa State Fair, Oklahoma Youth Expo, World Pork Expo Junior National, National Junior Summer Spectacular, National Western Stock Show, Arizona Nationals (Barrow and Gilt Show), American Royal (Barrow and Gilt Show), North American.
Major State Fairs include: California, Colorado, Iowa, Illinois, Indiana, Kansas, Eastern New Mexico State Fair, Missouri, South Dakota, Wisconsin, Ohio, Kentucky, and Nebraska.