Ottenwalter Show Pigs is excited to unveil our new Schedule of Events for our Farm Sales! The evening before each sale we will have complimentary food and drinks along with a live preview broadcast via taylorfort.com complete with commentary from some of our nation's biggest show pig figures. The morning of the sale, we will once again conduct a preview of the sale lots at 10am each day for all customers arriving that morning to view pigs. We will provide lunch at 12:00, and also NEW this year, there will be a banner presentation for all of our customers who won at fairs and major shows in 2023.
We are once again expecting an incredible set of pigs! We highly suggest making your travel plans early, especially if you'd like to book a room at The Colusa Casino that is located just a couple miles from the farm. Other recommended hotels for our sales are The Riverside Inn in Colusa or Granzella's in Williams.We are located just a short 50 minute drive from the Sacramento airport and in addition to having The Nation's Elite Sowherd, Colusa boasts some of the best wildlife and fishing in the world. If you cannot make our sales in-person, we are teaming up with Taylor Fort to provide an extremely high quality video preview for all lots, and additionally all farm sales will offer live bidding via CCI Live.
Please see our Sales Schedule below and don't hesitate to reach out to Russell (530) 681-9811 or Dustin (208) 969-0193 with any questions you may have!
We will post photos and videos of each lot about a week prior to our sales. Nationwide delivery is always available following our sales and delivery options will be posted to each sale page. Not sure what you need or unable to make one of our live auctions? We are happy to provide a selection service for our customers and can arrange delivery to most places! Please contact Russell for more details. We are also able to handle group orders for 4-H and FFA members. Please contact Russell at (530) 681-9811.
CUSTOMER CARE
In addition to assisting with selection, we are also able to provide customized feeding plans to our customers through videos and sometimes in-person visits during the entire feeding period. We attend every fair and major show on the west coast that we possibly can to help ensure the success of our customers. Please reach out to Russell or Dustin for more details on how we can help you attain your show ring goals!
Need show pig supplements and supplies? We highly recommend the RP Winning Technologies line of products. They have everything you need from daily supplements to whips, oil, skin care products, and show day electrolytes. Click here to visit the RP Winning Technologies store.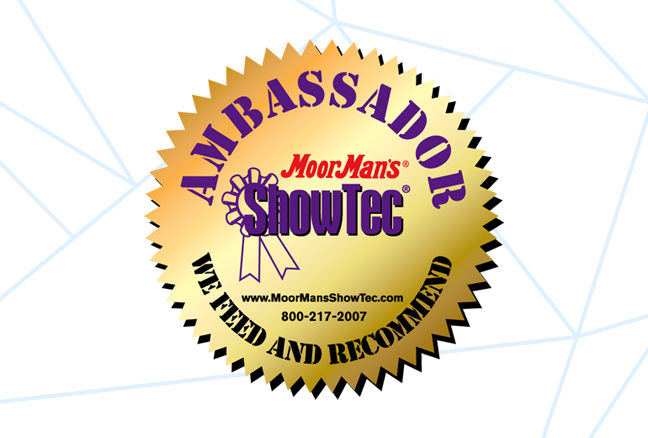 Seal of Approval
We are proud to use and recommend Moormans Showtec Feed and Supplements.